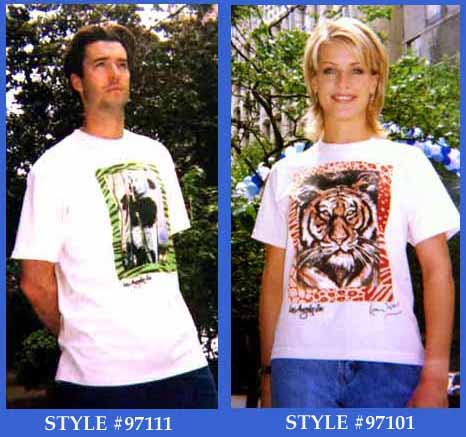 ANIMALS TEE SHIRT Links
Purchase products by check, credit card, e-mail, phone, fax or postal.
Match your Tee Shirts with this handy TOTE BAG
Top off the Tee Shirt and Tote Bag with a SWEATSHIRT!
BACK to the STARTING PAGE
E-mail us and let us know what you think . . .
The Ronnie Wood HOMEPAGE
ANIMALS by RONNIE WOOD Tee Shirt
The Tee Shirt may be the most universal piece of clothing on this planet - everyone wears them from every culture, size, shape and gender. Because of this, Tee Shirts have become the Human Billboard - the place where millions have chosen to advertise their wares.
Well, here's a tee shirt that puts a little something Back into the planet rather than exploiting it. The ANIMALS by RONNIE WOOD Tee Shirt addresses the Endangered Species Issue of animals whose Natural Environment has been reduced or even eliminated by Man.
The front of the shirt has an original artwork by Ronnie Wood of one of twelve Endangered Species (TIGER, FLORIDA PANTHER, ELEPHANT & RHINO, SEAL, CHIMPANZEE, MANDRILL, CHEETAH, LEMUR, WOLF, GORILLA, PANDA, LYNX). The back of the shirt has vital statistics about that particular creature - its Genus & Species, Natural Habitat, Diet & Range and how many remaining today. Not only a stylish garment, but an informative one as well!
By wearing this attractive shirt, you are not only making a statement in favor of protecting these unique and intrinsic lifeforms, you are actually doing something about it! Portions of the monies made from the sale of the ANIMALS by RONNIE WOOD Clothing Line are being contributed toward Restoration of Endangered Species. Ronnie is already involved in a Preserve for the White Rhino, and would love to see his Clothing Line enable even more Progress.
And what better than an ANIMALS by RONNIE WOOD Tee Shirt for the Whole Family to wear to the Zoo? A fun experience that promotes learning and awareness about the animals for both parents and children alike.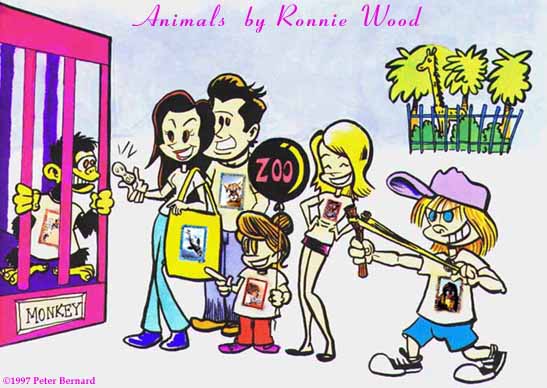 This page has been visited
times. Please help save the Environment.